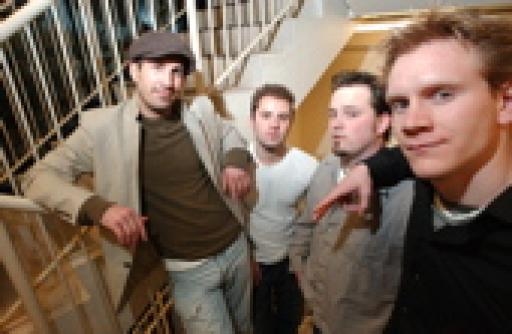 About Felix Jones
It was Boston, 2000. Down in the trenches of music; the subway. Joe and Phil were waiting for a train on the way home from a gig at the local Surf outlet Quicksilver, where they had a regular acoustic gig. Guitars at their feet, and a big crowd of about 50 now present (due to the tardiness of a train), they took the opportunity to introduce a few innocent bystanders to the sound of Felix Jones.
"We broke-out the acoustics and started playing; and I just closed my eyes because it made it easier to feel the music for me, and Joey had his head buried in his guitar as well, so both of us are totally in our own little worlds. No trains came the whole time we played, so the acoustics were really inspiring. After playing an ENTIRE 4 minute song, we stopped, looked up, and it was dead silent. No one was talking. No one was moving. But EVERYONE was staring at us. All of a sudden they burst into applause. As the applause was going, this one girl came up to our closed guitar cases, opened them for us, and exclaimed 'you need to leave these open, that was amazing'." -- Phil
Coming up in the chicago punk scene, FJ's guitarist Phil played shows with some incredible talent. He had Tim McIlrath (now of Rise Against) and his band Baxter play in his parent's basement for a few suburban-basement punk shows, and Tim had Phil's band the Skalawags play in his basement as well. Kris Myers (now drummer for Umphrey's McGee), played drums for the Skalawags.
The masterful slap-bass work you will hear on "Fired Up" when you click "Audio" (above) was recorded by Phil, or as his partner in crime Joey affectionately calls him, "The Albino Rhino". He won "Best Guitarist, Boston" in the "Guitarmageddon" guitar-championship hosted by Guitar Center for the performance of his virtuosic slap-acoustic-guitar piece "Ambition".
He once entered 4 songs under separate aliases into a songwriting competition hosted by the legendary producer/engineer Eddie Kramer (Jimi Hendrix, The Rolling Stones, The Beatles,&etc.) at Berklee College of Music, and all 4 songs were impressively awarded Honorable Mention; (only 6 Honorable Mentions were awarded total.) He has written over 300 songs. He has been signed as a solo artist, and often plays a left-handed guitar upside-down. Phil attended Berklee College of Music on a guitar-performance scholarship, and is hilariously, narcoleptic.
"Buddy Miles came over to my house when I was 13 and taught me how to tape my cymbals, and play a few cool grooves." - Joey D.
Multi-instrumentalist songwriting-extraordinaire Joey D. has had the pleasure of learning from legendary musicians and songwriters. He dedicated his life, and sacrificed everything most consider essential in life to his art of songwriting. He has recorded with the heavyweight Nashville-producer/engineer Russ Ragsdale (Jane's Addiction, Quincy Jones, Michael Jackson, Duran Duran, Meat Loaf, Leon Russell, Edgar Winter, Bruce Hornsby, Billy Idol, Barbra Streisand, Muddy Waters, Trisha Yearwood, Bob Dylan, Faith Hill, Tim McGraw, Laura Branigan, Patty Loveless, Megadeth, The Isley Brothers, Yes, etc&), and been publicly recognized by the world-famous songwriter Jason Blume (Britney Spears, the Backstreet Boys, and Jesse McCartney, Collin Raye, the Oak Ridge Boys and John Berry. Blume's songs are included on albums that have sold more than 50 million copies.) Joey D. has written over 300 songs and definitely has a gap between his two front teeth.
Nick "Animal" Daviero has won multiple regional-championships in the "Guitar Center Drum Off", teaches drums, is a whopping 5 foot 6, and drinks protein shakes from GNC at discount prices.
As a band, Felix Jones is taking the radiowaves by storm in North America and if you delve further into this press kit, you will find out what they've accomplished in Korea so far as well...