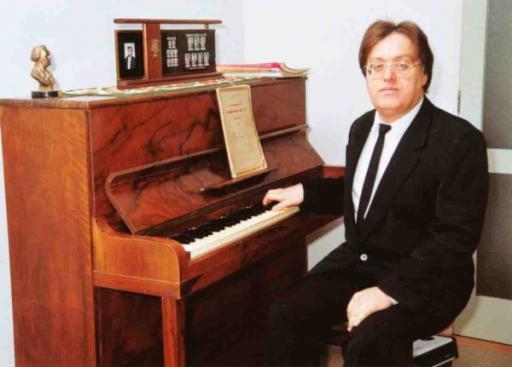 About Guilherme Schroeter
MAESTRO GUILHERME SCHROETER
http://www.guilhermeschroeter.mus.br/
Guilherme Schroeter was born May 16, 1960 in Rio de Janeiro, Brazil, from a traditional family of Musicians: his mother, a pianist; his father, a violinist; his brother, a violinist; and his aunt, Olga Maria Schroeter, a famous opera singer.
Guilherme began his studies at seven years of age with his mother in 1967. Guilherme's mother, by her devotion to music and the piano, inspired Guilherme to begin practicing the piano and also to create his first compositions. At 7, Guilherme was able to give brief performances, and four years later in 1971, at the age of 11, his first composition was performed. The composition is A Celebration for Christmas, composed for a trio of musicians. Guilherme performed on the piano, flute and violin; his brother (the virtuoso and award-winning Brazilian violinist Harry Oscar Schroeter) also performed on the violin; and his sister (Eveline Schroeter, former Miss Brazil 1980) played the flute.
Guilherme had his eyes fixed on being a composer at that young age of 7 and has not looked back. At 12 years old, Guilherme performed the famous Chopin Ballade no.1 in G minor (Op.23) and the Russian pianist Sergei Dorensky (1931-) was very impressed by his talent. Sergei Dorensky was trained under Grigory Ginsburg (1904-1961) at the Moscow Conservatory, becoming a professor at the Conservatory from 1978 to 1997. In 1989, Sergei was named the People's Artist of Russia, and he received the Order of Friendship in 1997. He is the vice president of the Russian Fryderyk Chopin and Sergy Rachmaninov Societies.
Guilherme achieved his first Classical Music Award when he was 16 years old, in 1976, in the Villa Lobos National Chamber Competition (Brasilia, Brazil), when he received the title of Best Performer of Villa Lobos.
Between 1975 and 1987, Guilherme traveled all over Brazil, performing in recitals and participating in competitions with his brother Harry.
Between 1971 and 1980 Guilherme studied with the famous musician Larry Fountain. Mr. Fountain studied in the renowned Manhattan School of Music from 1957 to 1963, where he studied with Robert Goldsand (1911-1991). Mr. Goldsand studied with Moritz (Moriz) Rosenthal (1862-1946), known to be "the most famous pupil of Lizst." Rosenthal also took lessons with Karl Mikuli (1819-1897), Chopin's editor and student, who gave him the correct way to perform the Chopin melodic "legato."
Guilherme earned his graduate degree (Field: Piano) in 1988 at the Saint Mary University of Music in Brazil. Three years later he traveled to Germany to complete his piano studies, and then he took three Master Classes with the renowned and internationally acclaimed pianists Jörg Demus (1928-), Peter Rösel (1945-) and Czeslaw Kscinsky.
In 1979 at 19 years of age, Guilherme performed with his brother Harry the difficult César Franck Sonata in A major for Violin and Piano in A, at the famous Cecilia Meirelles Hall in Rio de Janeiro, Brazil.
In 1985, Guilherme as a Soloist received a prominent award, and he performed twice in a 48-hour period Chopin's Piano Concerto in E minor (Op.11) with the Porto Alegre Symphony Orchestra.
Also in 1985, Guillherme made it to the semifinals between seven of the best pianists in the Fourth International Piano Competition in Montevideo, Uruguay.
In 2001 Guillherme traveled to Seattle, Washington, giving concerts and promoting his compositions in the United States. During his stay in Seattle he performed his acclaimed 29 Preludes (Op.1), with great success to a wide audience that understood his music and enjoyed Guillherme's creative ability.
Guilherme has composed over 200 classical works, including five piano concertos and piano music using the most famous forms: concerto, sonata, fantasy, suite, prelude, fugue, rhapsody, scherzo, theme and variations, impromptu, ballad, nocturne, étude, as well as innovative forms created by him. He composes his masterworks with poetic preludes that cover the spectrum of emotion in the footsteps of the Masters that came before him such as Beethoven, Bach, Chopin and Rachmaninov. His body of work, which covers 40 themes for film, 120 pop songs and almost 400 works in total is one of the largest collections, if not the largest collection of New Music in the world. He has drawn acclaim from his peers from every corner of the globe, and those artists who have performed and recorded his work have drawn international acclaim for their efforts in bringing New Music to the world. This is a massive worldwide undertaking of musicians and vocalists covering every facet of music, and Guilherme has no bounds in creativity.
Guilherme received his first award for music composition in 1984 at a Sao Paulo contest with his Sonatina for Violin and Piano Op.2 No.1 (C Major), performed with his brother Harry on violin.
Mr Schroeter's works are recorded/awarded by ERMMedia (Piano Concertos 3 and 4) by the KIEV PHILHARMONIC (Wistin/Tavanets). His lieder for singer and orchestra On the Eve of Sadness, recorded by the Millennium Symphony, as well as his pop song Come Back to Me will be released by ERMMEdia soon.
Guilherme was invited by Parma Recordings in the Boston area to record his Piano Concerto Op.215 No.5 (Eb Major) with the Moravian Philharmonic. The Pianist was Vacla Macha, one of the best of Czech Republic, and the conductor is the renowned maestro Vit Micka (composer, conductor, teacher and pianist).
— by Ana Maria Suazo, manager, producer
What his critics say
"Guilherme Schroeter displays a pianist and compositional talent that meets and carries forward the work of the great artists of the Romantic era. His work is fresh and new but simultaneously full of history in each and every bar, and the craftsmanship displayed in his scores is certainly the work of a master of his instrument."
— PARMA Recordings CEO Bob Lord
"Guilherme Schroeter has a unique voice, and his piano concertos (no.3 and 4) are really composed by a true pianist."
— ERMMedia Recordings CEO Robert Ian Winstin
"....Internet is an ocean, and in every ocean there are islands. Here is one, amazing, moving, disquieting. Please, listen and meditate this music. Ask yourself, then, where does it come from, where is the source of this Art; because if you think that the simple academic exercise will bring your capacity to this goal, that the simple act to "glue" together fragments of the immensely rich musical tradition of the late romantic composers will be enough, then I would rather convince myself to spend all my energies in rebuilding such Academy. But I believe this music being inspiration and passion, in the framework of profound musical knowledge, given by a strange mistake of the Gods, to the wrong world in the wrong time..."
— Claudio Ronco, Cellist and Composer from Italy
"A gentle and moving piece by the Maestro, Guilherme Schroeter. What good fortune it is too hear such a splendid piece of music. What is it about this delicate piece which makes it seem so simple yet so refined?
Mr. Schroeter begins with a simple entry, but note how each instrument is introduced: a dramatic effect as the balance of the ensemble falls into perfect order. The opening phrase begins in the flute and finishes it in the clarinet, almost as if one is finishing the sentence of the other. Here is a fluid melody being shared between voices. And note the single note in bar 6, the hollow sonority of the clarinet as it gives the piece its first breath, before speaking again — rising and falling carefree and sublime for a full 16 bars, before it is punctuated softly in bar 17. The transition which follows reveals but a glimpse of Schroeter's advanced conceptual abilities. The melody is then extended and developed amid delightful harmonic movement. Through this piece we can appreciate genius without being required to understand genius.
— Review from Kent Moore of Kalmor Publications, 2005
Music has no bounds for composer Guilherme Schroeter
Guilherme has also completed projects in other areas of music beyond his accomplishments in the classical music field. In the field of jazz, scores organized in classical forms such as sonatas and fantasies are also part of his repertoire.
Guilherme has drawn worldwide acclaim for his contemporary music, called "MUSICA" for diverse instruments — where he has devised innovative ways to experience new sounds.
Mr. Schroeter also works in the field of pop music, which has drawn in the most superb vocalists in the world. Guilherme's efforts since 2005 have resulted in honors for his songwriting. The song Heaven on Earth (lyrics by Olatunji Talabi) is an example of the collaborative efforts of the composer, musicians and vocalist. This is an extraordinary work of music and the accolades that have been bestowed upon it and those that have made it a contemporary classic are to be commended. We welcome all of the fans of Guilherme Schroeter to enjoy the works contained on this site and on the Web.
GUILHERME SCHROETER AWARD WINNING COMPOSER AND PIANIST (some pop awards)
Hollywood Music Awards nomination
Los Angeles Music Awards nomination
Les Vignes D'or Songwriting contest (France)
Second Prize at Peace Foundation ( New York)
... and others
Guilherme has worked closely with the Lyrical Composer Roberta Annycs (Chicago, IL) and collaborated with her on 70 songs.
Mr. Schroeter is actually living in Los Angeles to promote his works in California and the USA and is actively performing his music in many venues throughout the Los Angeles area. Beyond his genius as a composer and pianist, he is a man of compassion and integrity
Influences
Carpenters, Henry mancini
To listen some of my 120 songs
2011-07-12
By: Guilherme Schroeter
Posted in: Links to my songs
Tags