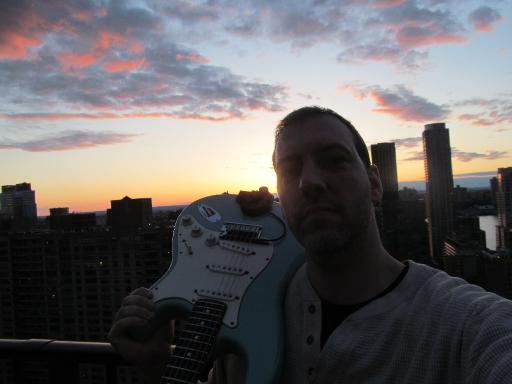 About Ian C. Bouras
Ian Charles Bouras is a guitarist and producer from New York City.
He is one of the main songwriters, and the guitar player for NYC rock/reggae band AñaVañA.
AñaVañA's self-titled debut record (2004) showcases his songwriting, guitar playing and producing.
Ian was nominated by Billboard Magazine to be among the top songwriters in 2004 and 2005 for his work with AñaVañA. 
Since receiving his audio engineering degree, Ian has produced, mixed, and played guitar and bass on records in all genres from rock to spoken word, and is now working as a freelance audio engineer.
Ian produced, played guitar, bass, and mixed AñaVañA's second release entitled "R*U*B" (2005), which was called:  "Sophisticated and musically brilliant… a magnetic hybrid of music… a refreshing 2nd full length record… a distinct sound-from shy to outright strident" --- RACHEL ROKICKI (The Deli Magazine)
His first solo release on SDMP Records, entitled "A Cure For Reality" (2007), has Ian producing, playing guitar, keys, bass, programming drums, and mixing, and earned him attention from music fans and critics alike: "A surprisingly unique and fresh sound. Artists like this are responsible for the evolution of musical genres."  --- Blips and Beeps
Ian's second release was, "By Company They Mean Me", and is the only "digital-only" release for SDMP Records, and is described as "epic orchestral music with classical guitars", a unique blend of electronic and live music.
His newest release, "The Certainty Of Being Found", finds Ian experimenting further with the mix of dub reggae with spanish and classical guitars. There are also 6 guitar interludes, which clearly show the emotion that Ian puts into his music.
Ian is continuing work as an engineer on several projects to be released throughout 2010, and is in pre-production for his next solo offering.
To learn more about Ian or SDMP Records, please visit: www.sdmprecords.com
The Inevitability of Loss