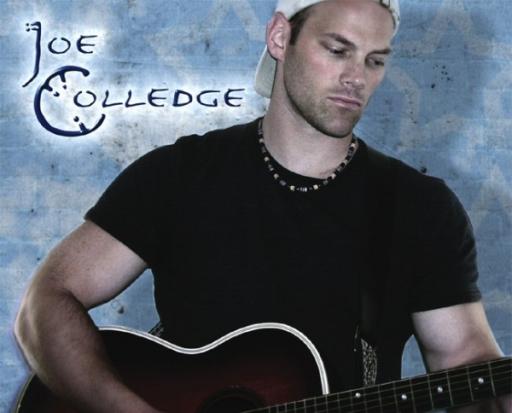 About Joe Colledge
In an area with more cover bands per square foot than perhaps anywhere else in America, Morristown, New Jersey's Joe Colledge is rapidly becoming one of the most popular original artists in the Northern New Jersey music scene. The secret to his success is a high octane-show and a winning set list, which features inspiring original material penned by the talented singer/songwriter.

A native of Philadelphia, Colledge began his musical career at a young age, studying guitar and developing his songwriting skills as a teenager. After fronting many bands and experimenting with different genres of music over the years, it was the events of September 11th that inspired him to put pen to paper in an attempt to express the tangle of emotions that resulted from having witnessed the horrific scene that day. Colledge began to compile a stack of songs and returned to performing a regular schedule of solo acoustic gigs. He eventually recorded a demo album of original material called "Convent Station", where he tapped into his personal experiences with life, love, loss, and hope. The album was released on Swamp Dog Records in 2005 and is currently available via most online distributors.

In early 2007, Joe Colledge cemented his new band lineup which consists of Michigan native Jimmy Mac on lead guitar, Elton John-influenced keyboardist Jon Wohlgemuth, NJ original music mainstay Ted Winsch on bass, and super-tight drummer Jeff Pizzi. In June of 2007, Colledge released his first true and long-awaited LP entitled "Table For One" with indie label OMS Records. With a rootsy sound reminiscent of Tom Petty, Counting Crows, and Train, the album features catchy songs like "Playin' Around", "Deep Into You", and title track "Table For One", which are already drawing a great response from his devoted fans.

Recently named New Jersey's "Best Male Vocalist" by Daily Record readers, Joe Colledge has been garnering much attention in the form of considerable Podcast and Satellite Radio airplay. With a series of recent publishing deals, his songs are in high demand as they are being shopped to such networks as Fox, Disney, and Warner Brothers for Film & TV placement.

Indeed, as Colledge pleases crowds with his hooky songs and a few covers of rock mainstays, his original sound and direction continue to develop. Says Colledge, "I just want to write and produce great music that will touch as many people as possible. I'll just keep writing and playing and see how far I can take things. The addition of the new band members has me feeling higher than ever about bringing my music to our devoted fans."

Joe Colledge is proud to carry on the Garden State's great tradition of rock 'n' roll, and who knows – his name might someday appear right alongside Springsteen and Bon Jovi in the Jersey rock 'n' roll hall of fame.
Influences
Tom Petty, Collective Soul, Shawn Mullins, Gin Blossoms
stats: