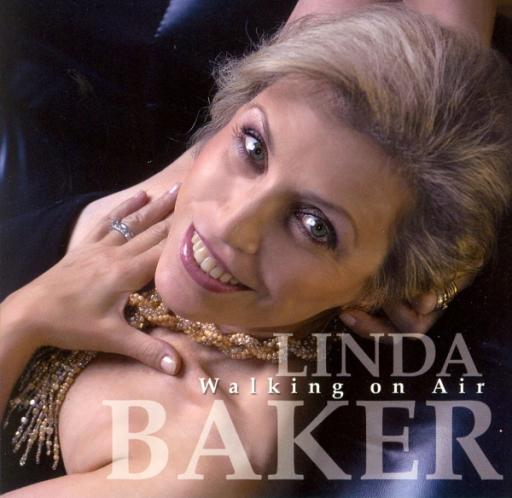 About Linda_Baker
Introducing Walking on Air, Linda Baker's most recent CD release.  Initially inspired by a chance meeting with legendary jazz singer, Johnny Hartman, Baker would haunt The Music Exchange, in the Brill Building, where kindly "Uncle Herb" would dig through shelves of rarely performed sheet music, offering her whatever obscure sheet music from the 1930's and 40's he could find.
Linda joined Cobi Narita's "Universal Jazz Coalition" and "Voices Inc." where she mounted several of her own concerts, performing with veteran jazz musicians at Cobi's Lafayette Street jazz loft. During those years, she spent most Saturday afternoons singing Nadia Boulanger exercises at Ann Ruckert's Upper West Side studio with a small group of vocalists who taught each other solfege.
Ann sent Linda out to audition for her first commercial jingle and soon Linda's voice was heard on TV and radio, singing "Moet Makes it Paris."
Baker sang numerous gigs in jazz venues around New York City and participated in several workshops with jazz great Tierney Sutton. For three years she studied with veteran jazz singer Ann Marie Moss and briefly, with Jackie Paris. Most recently, she has been studying with acclaimed singer and voice teacher Juliana Janes-Yaffe', whom Linda first met while attending the Musical Theatre Program at New York University and with Carol Fredette, vocal jazz coach extraordinaire.
The current album, Walking On Air, is a synthesis of all these experiences, shaped and documented by Linda's team of collaborators, conductor/producer John Yaffe' and recording engineer, Patrick Lo Re.
Baker's lovely vocals float above a top notch jazz quintet playing superlative arrangements by Mike Abene. Wonderfully fresh, smart, funny swing tunes, Latin-inflected beats and poignant ballads will make you want to hear more from Linda Baker!
Contact:
Redwood Entertainment, Inc.
Janet Castiel
Phone:  212-543-9998
stats: