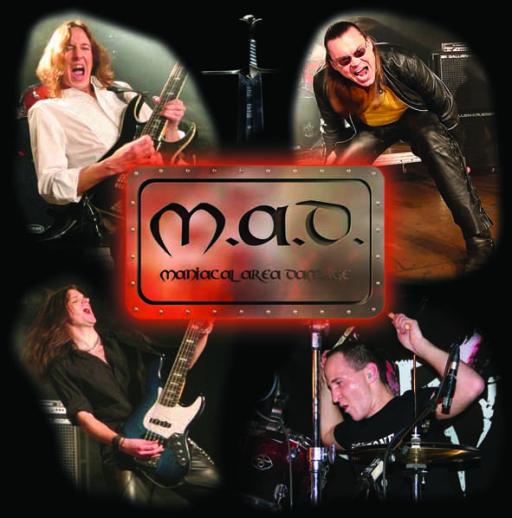 About M.A.D. (Maniacal Area Damage)
M.A.D. (Maniacal Area Damage) – that is hard rock at it's best, goes directly under your skin and makes you shout for more. "Pure entertainment, cool outfits, congenial musicians and a permanent contact with the audience" 1) make their concerts an unforgettable experience. "Guitar sounds sharp like a knife edge" 2) and rough, hard lead vocals "that bear comparison with the former AC/DC front man Bon Scott" 3) give their songs a "clear handwriting" 4). "It can't be overseen, that M.A.D. is creating an own unmistakable style" 4) wrote the newspaper "Donaukurier".
With this style, a mix of classical Hardrock and Heavy Metal (you could call it "True Rock'n Roll") they could convince the audience as support for big names (f.e. Saxon, Edguy, Bonfire, Shakra, Paul Gilbert, Eric Sardinas)as well as act on bigger events (Rock For Asia,  Mexico Open Air) or biker parties.
In the beginning of 2007 the guys of M.A.D. released their first album called "Warning!". The Album got very good reviews in the international press  and at the "German Rock & Pop-Award 2007" the bandwas honored with the first price for the "Best Hard'n'Heavy-Album" and "Best Hard'n'Heavy-Singer" (signed by Klaus Meine from the "Scorpions").
Now on 19.06.09 their second studio-album, "For Crown And Ring", for which M.A.D. signed their first real record deal at the label "7hard", has been released. The label is a division of the "7us-Mediagroup", that has even signed acts like the former "Chicago"-drummer, Danny Seraphine, the Sweden-rockers "Stone Lake" and the former ABBA guitarist Mats Ronander with his new Band "Stockholm Stoner".
"When in 2007comparisons on their debut with AC/DC, Jackyl or Rainbow suggested themselves, on the second disc of the guys from Ingolstadt around shouter Jochen S. Bach, threr's no doubt, that it happens to be a tick harder. Traditional, timeless Hardrock in the style of the named before (especially "A Long Hard Road") is more or less still their favorite business, but also they're poaching in Teutonic areas of the "True Metal League". When hearing tracks like "Crown And Ring" or "The Warrior" you get amazed that you're reminded of Manowar or even Hammerfall, what is an additional bonus to make the CD more colorful. There will no heavy-ear switch to draft; even the opener "Don't Sell Your Soul" is digging itself into your ear canal with its catchy refrain and the still razor-sharp, easily shoot-from-the-hip guitar riffs of grandmaster Robert Mayer are doing the rest…
The super-blues "Bad Boy Boogie" they are coming Extremely dirty, rough but nevertheless simple out of the speakers; firm riffs that even help the old Tina Turner rocker "Nutbush City Limits" (with saxophone solo) to blaze in new glory." 5)
1) Megazin Februar 2005-03-12; 2) Donaukurier vom 29.01.2005; 3) Donaukurier vom 16.01.2006; 4) Donaukurier vom 22.10.2003;
5) translated CD-Review from the magazine "Breakout 03/2009"
Influences
AC/DC, SAXON, Krokus, Manowar, DIO, Mötley Crüe
stats:
M.A.D. album "Warning" now available in the States!!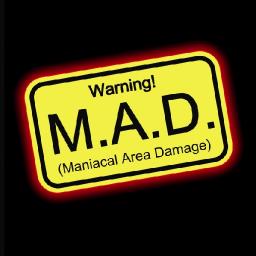 <p>Hi there,</p><p>&nbsp;now our album &quot;Warning!&quot; is avalable directly in the United States at <a href="http://www.amazon.com/">www.amazon.com</a>. Here is the link:</p><p>&nbsp;<a href="http://www.amazon.com/Warning-Maniacal-Area-Damage-D/dp/B000NVI0IA/ref=sr_1_1/104-8374713-8314323?ie=UTF8&amp;s=music&amp;qid=1188218599&amp;sr=1-1">http://www.amazon.com/Warning-Maniacal-Area-Damage-D/dp/B000NVI0IA/ref=sr_1_1/104-8374713-8314323?ie=UTF8&amp;s=music&amp;qid=1188218599&amp;sr=1-1</a></p><p>So check it out!!</p><p>&nbsp;</p><p>Greetings from Germany,</p><p>&nbsp;Jochen (Voice of M.A.D.)</p><p>&nbsp;</p>