About SpiritN3D
What's behind the name SpiritN3D? I'm glad you asked!
Aside from the original 3 members whose names all started with the letter "D", it's a good guess to say that it stands for the Spirit of God that comes to us in three ways also known as the Trinity…. God the Father, God the Son and God the Holy Spirit! 

"Giving Praise and Worship to our God through the talents and gifts He gave us"

That's what we do and we do it through the Christian music we perform to bring others closer to His message of Faith, Hope and Love. Our music is a blend of Contemporary Christian Rock with a driving beat and high energy lead guitar solos. The lyrics in each song written by SpiritN3D have a message of God's Love for people of all ages and faiths. The musical performances are very lively and uplifting and are guaranteed to inspire audiences to sing along in worship and praise. The band is capable of performing more than 4 hours of contemporary Christian music written by today's top artists and enjoyed by all Christian Churches regardless of affiliation. Depending on audience and the venue, music composition can be soft and mellow using acoustic instruments for coffee houses and adoration services to all out Hard Rock at concerts and outdoor events. In the summer of 2010 SpiritN3D released their second CD called "Stand Firm". Past venues include County Fairs, Music Festivals, Church Youth Concerts, Multi-Denominational Christian Night Clubs, Christian Coffee Houses and 12 step Recovery Clubs. Our greatest joy is bringing the message of Jesus Christ to teens and young adults in church services especially through the liturgy of the Holy Mass.
Influences
Lincoln Brewster, Hillsong, Springsteen
stats:

2010-12-01
By: SpiritN3D
Posted in: Band Performances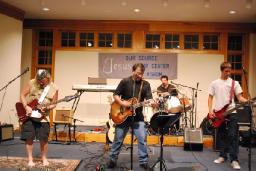 <p>On Saturday night November 7th, we had the Upper Room in West Warwick, RI packed with believers giving Praise and Worship to our Lord&nbsp;a new name!! It was an awesome night of very high energy rockin' for the Lord! We celebrated the release of our new CD with the performance of several tunes live&nbsp;for the first time&nbsp;including What God's Prepared, Redeemer &amp; Savior and Call In The Thirsty. The folks at the Upper Room are a class act. Rich &amp; Mike do a great job and Mike always gives a wonderful testimony to the crowd at "half-time". A special thanks goes out to our lead guitarist Dave Richard for his very moving testimony on the loss of his sister and dad just a short time ago. We love playing at the Upper Room and would recommend everyone to&nbsp;check this place out on a Saturday night. It's a great Christian venue! Peace out, <em>Dan</em></p>
Tags