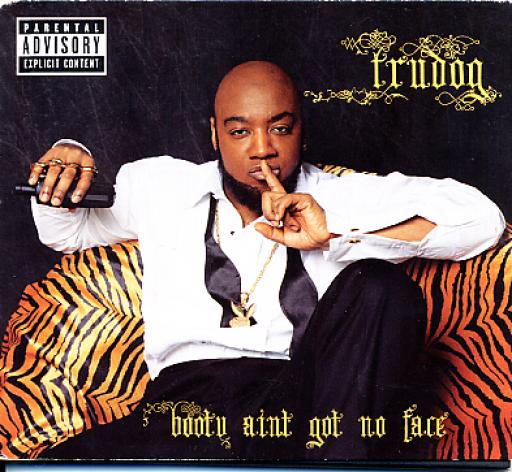 About Trudog (Homo Rapper)
Trudog is back on the scene with his first full length CD "Booty Ain't Got No Face". His new joint, which offers up-tempo hip-hop grooves, well crafted stories and zany hooks, could easily be the party CD of the year.
Trudog admits, "It took me three years to produce this CD because I wanted to take time out to develop as an artist. I didn't want to release yet another rap CD laced with profanity. I wanted to deliver humorous universal stories with some depth. I also had specific people I wanted to work with, who are at the top of the underground music scene, and I wanted to make sure they could all participate, despite their busy schedules."
Those involved with "Booty Ain't Got No Face" reads like a who's who of the new underground:
R&B crooner John-Martin Green, jazz musicians Ivan Ramirez and Sean Whitley, rappers Rapzilla and Record Deal of the duo "Cracked Out", rock guitarist Ian C. Bouras and Trudog's backup singers "The Jilted Bridez".
Plus appearances by **** porn legend Bobby Blake and drag sensation Hermonica Sunbeam.
www.trudogrecords.com
stats:
<p style="margin: 0in 0in 10pt; line-height: normal;" class="MsoNormal"><span style="font-size: 10pt; font-family: ">Trudog is back on the scene with his first full length CD &ldquo;Booty Ain&rsquo;t Got No Face&rdquo;. His new joint, which offers up-tempo hip-hop grooves, well crafted stories and zany hooks, could easily be the party CD of the year.</span></p>
<p style="margin: 0in 0in 10pt; line-height: normal;" class="MsoNormal"><span style="font-size: 10pt; font-family: ">Trudog admits, &ldquo;It took me three years to produce this CD because I wanted to take time out to develop as an artist. I didn&rsquo;t want to release yet another rap CD laced with profanity. I wanted to deliver humorous universal stories with some depth. I also had specific people I wanted to work with, who are at the top of the underground music scene, and I wanted to make sure they could all participate, despite their busy schedules.&rdquo;</span></p>
<p style="margin: 0in 0in 10pt; line-height: normal;" class="MsoNormal"><span style="font-size: 10pt; font-family: ">Those involved with &ldquo;Booty Ain&rsquo;t Got No Face&rdquo; reads like a who&rsquo;s who of the new underground: </span></p>
<p style="margin: 0in 0in 10pt; line-height: normal;" class="MsoNormal"><span style="font-size: 10pt; font-family: ">R&amp;B crooner John-Martin Green, jazz musicians Ivan Ramirez and Sean Whitley, rappers Rapzilla and Record Deal of the duo &ldquo;Cracked Out&rdquo;, rock guitarist Ian C. Bouras and Trudog&rsquo;s backup singers &ldquo;The Jilted Bridez&rdquo;.</span></p>
<p style="margin: 0in 0in 10pt; line-height: normal;" class="MsoNormal"><span style="font-size: 10pt; font-family: ">Plus appearances by **** porn legend Bobby Blake and drag sensation Hermonica Sunbeam.</span></p>
<p style="margin: 0in 0in 10pt; line-height: normal;" class="MsoNormal"><span style="font-size: 10pt; font-family: ">www.trudogrecords.com</span></p>
Tags