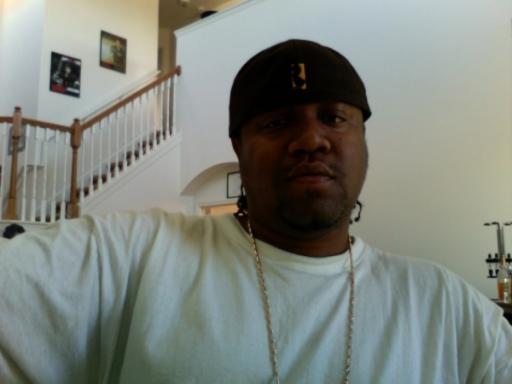 About BUCK50
BUCK50 shares his "Political Pain"
Los Angeles, CA -- There's new music coming from BUCK50. This rising rap star has announced thatwork is under way on an album by the name of "Political Pain." The disc will be filled with the invigorating ,melody-laced and high-energy brand of hip-hop. Danceable, thought provoking and original, BUCK50's music packs the kind of punch rap requires.
"ALL I DO" is the lead single for the album. It boasts a very dancefloor friendly beat and BUCK50's trademark lively lyrical flow,bringing mind and hooks together in a captivating attack of hip-hop. The song is inspired by events suffered by BUCK50 and the warm hearted woman who offered comfort and healing. "No matter what I went through, my best friend helped me to stay focussed by taking my mind off my everyday struggles., " says BUCK50. "ALL I DO" is a heady song that is armed with both brains & catchy grooves.
BUCK50 takes his name from a scar across his face. "In 1999, I was in a fight with a guy who pulled out a box cutter," BUCK50 explains. "He slashed my face from front to back." "In the streets they call the scar a 'buck 50' so I made it my rap name." 
The death of BUCK50's father in 2004 while in transit to Ft. Dix to report for Iraq duty brought a terrible blow to BUCK50's heart & --mind as well as losing his mother to Breast Cancer---but it also helped him find the inspiration to pour his soul into his music.
It paid off!
BUCK50 has sold Cd's out of his car (still does--he once sold 1000 Cd's in a month to pay for studio time) and he has also recorded with multi-platinum producer Veitt Renn of RMP Studios. He'll tell you its the fruits of hard work.
He has earned strong positive feedback for his music; massive online support has helped his popularity  grow, sending him continually higher on the music charts. "I am competing with all the maistream professional rappers in the world...Out of 18,500 rappers, Im at 600 on the charts. Check em out on REVERBNATION.COM charts. He is in communication with BADBOY & VIOLATOR records. BUCK50 is working with A&R Select, the worlds leading artist development firm, based out of Los Angeles,CA.
Despite the hurdles of being an indie artist, BUCK50 is pressing forward with his career. Recording is under way on "POLITICAL PAIN " and he has retained an entertainment lawyer for consultation on offers from the music industry. Check him out on MYSPACE MUSIC at www.myspace.com/rahakabuck50. 
stats: