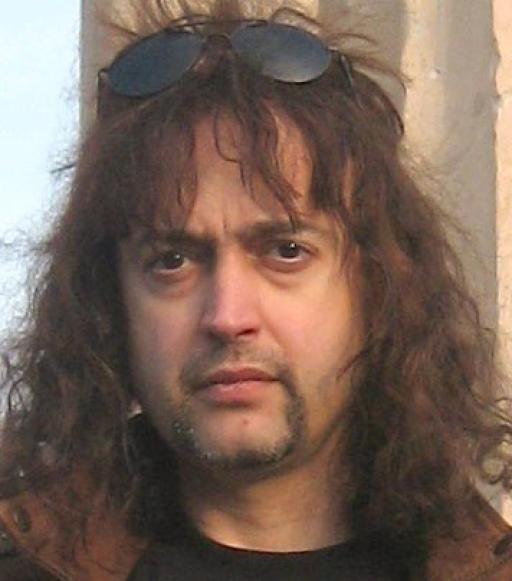 About Demetrios Katis
Demetrios was born in Athens, Greece / European Union.He originates from a village named St. George (ancient Coronia) in Boeotia which lies to the north of Helicon mountain the land of the ancient Muses and to the east of mountain Parnassus the land of the golden haired Sun God Apollo and his sacred temple of Delphi.
In 1986, at the age of 17, Demetrios first album was released by Polygram. Titled "Dorians, Return to Earth", it is an instrumental album greek and classic in genre, orchestrated and rhythmically compiled with vivid european rock music tempos in an original epic style. That same year The Greek Lions awarded Demetrios best young composer.
In 1989 Demetrios founded the group "The Exiles". EMI released their self-titled debut album. "The Exiles" is an album of forceful epic music, combining medieval sounds and greek/european harmonies with strong heavy metal rhythms. In 1992 the song "I make a wish" was included in the collective CD/LP project called "Classic Metal Ballads" and went platinum with over 60.000 copies sold in Greece.
The albums "Nineteen" and "Redeemer" followed in 1991 and 1993 respectively. Classic hard rock in style, these albums were released by HARVEST EMI.
Faithful to this kind of music, Demetrios continued composing and recording and in 1996 Harvest EMI also released his CD "Night on The Murs". This instrumental album also contained english verses, and clearly demonstrated Demetrios' love for the cinematic and TV sound. The music contained in "Night On The Murs" remains ideal for movies and documentary films.
In 1997 Harvest EMI issued "Demetri's Collection" and in the summer of 1998 released a new recording project titled "The Best's Generation", a melodic rock anthem to the Ancestors.
The year 2000 saw the release of "The Blazing March, from Genesis to Europe" by Virgin Classics. An epic symphony "The Blazing March" contains narrations & operatic chorus vocals. The lyrics were written by Kostas K. Katis, Demetrios' father. Demetrios was warmly congratulated by many academics, rectors, known scientists and statesmen for the content of this album. In April 2001, the "Blazing March, from Genesis to Europe" was presented to the official hall of Journalist's Union at the Athens Daily newspaper and the president of the Greek Parliament, Mr. Kaklamanis, publicly acclaimed Demetrios for his work. Demetrios was warmly congratulated by one of the most reputable contemporary philosophers of Athens and of the Research Center of Greek Philosophy, Dr. Evangelos Moutsopoulos PHD.
The board of directors of the educational institute unanimously approved Demetris' "Blazing March" to be included as part of the high school curriculum in music.
Demetrios has also hosted his own TV shows (Metal Mania & Star Club), on ET1 & NET greek television, produced and presented the programme "Music, Human & Landscape" on "Tele City" and collaborated with "Apogevmatini publications", an evening newspaper in Athens, as historian and art / music editor for the past 14 years. As a journalist-member of the European & the International Federation of Journalists (IFJ), Demetrios has received glowing critiques by professors and journalists in Greece, throughout Europe and abroad for his series of articles.
Currently Demetrios produces & presents his own radio programme : "The Dance of the Danans" on "Athens 9.84 FM". Demetrios Katis also continues to work with major Film music libraries and many of his compositions have been published in London, the U.K. and Amsterdam, The Netherlands by Dennis Music Ltd., distributors to the major music libraries of the world. Many of Demetrios' other instrumental compositions are published in Toronto, Canada by Lakefield & Clotille publishing and released by Kool Music. His world/ ethnic music tracks are published by Grand Cypress Publishing & released on cd by ABACO / ProMusic library productions in Boca Raton, Florida and Los Angeles, USA. Demetrios also works as a composer with Atlanta Music Group in Georgia, USA.
Most recently (2005) Demetrios penned a deal with Christopher Devereaux of Devereaux Film Productions to compose the original soundtrack motion picture score for the film "Bronze And Blood". A multi-million dollar production, Bronze And Blood begins production in June 2005 on location in Ireland.
2005 also saw the release of Demetrios most recent musical work, the CD "Europe Hymn and Duty", featuring the lyrics of Kostas K. Katis, James Edwards on vocals and Joe Lamachia as narrator. "Europe Hymn and Duty" is an epic musical tribute to the historic course of United Europe.
Demetris is the founder of the band Exoristoi and most recently signed with Sonic Age Records for the release 'Wrath of Zeus' Epic Rock tunes.
ERM media based in Chicago has released this year of 2006 a Demetrios's EPIC orchestral track called 'Arrogance and Fear' performed by the KIEV's philarmonic orchestra.
Demetrios is a member of AEPI (member of Cisac), FMN (Film Music Network) and ACF (American Composers Forum). Demetrios is officially represented by Anthony J. Messina of American Artists Entertainment, Philadelphia, Los Angeles, New York, Charlotte Hannon of Atlanta Music Group, Atlanta Georgia, Gene Foley of Foley Entertainment, New York & Sylvie Harris of AlphaMusicGroup, New York
Followers:
stats: