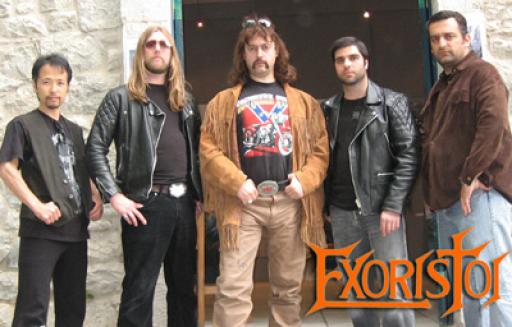 About EXORISTOI
EXORISTOI currently based in Atlanta USA, London & Athens E.U.
Greece's biggest selling platinum awarded hard rock / metal band of all time, is back after many years to lay claim to their throne. The band led by guitar mastermind Demetrios Katis, changed their lyrics from Greek to English and with the addition of the amazing singer, Stuart Cook, the veteran bass player Harris Geroulakis, the Japanese drummer Massa Mizunumi and the Cypriot keyboard player, Vas Vasiliou, they made their style heavier than ever and they are expected to send shivers to the spine of the old school epic metal mongers as well as the younger fans. With cuts like "Tomb of Doom", "Wrath of Zeus" and reworked versions of the epic metal classics "Exoristoi" into "Book of Sorrows" and "Doksa kai timi" into "Seven Maenads", they will definitely cause great impact on the scene!
Epic progressive Heavy Rock 90's band, re-formed, re-united, re-incarnated in a new millenium where market mediocrity and label issues no longer rule, affording Exoristoi the podium to bring their unique style of music to both a new audience and die-hard fans.
Band History:
In 1986, at the age of 16, Demetrios Katis' first album was released by Polygram. Titled "Dorians, Return to Earth", it is an instrumental album greek and classic in genre, orchestrated and rhythmically compiled with vivid european rock music tempos in an original epic style. In 1989 Demetrios founded the group "The Exiles" (EXORISTOI). EMI released their self-titled debut album. "The Exiles" is an album of forceful epic music, combining medieval sounds and greek/european harmonies with strong heavy metal rhythms.
In 1992 the song "I make a wish" was included in the collective CD/LP project called "Classic Metal Ballads" and went platinum with over 60.000 copies sold in Greece. The albums "Nineteen" and "Redeemer" followed in 1991 and 1993 respectively. Classic hard rock in style, these albums were released by HARVEST EMI. Faithful to this kind of music, Demetrios continued composing and recording and in 1996 Harvest EMI also released his CD "Night on The Murs".
In 1997 Harvest EMI issued "Demetri's Collection" and in the summer of 1998 released a new recording project titled "The Best's Generation", a melodic rock anthem to the Ancestors. The year 2000 saw the release of "The Blazing March, from Genesis to Europe" by Virgin Classics. An epic symphony "The Blazing March" contains narrations & operatic chorus vocals.
Demetrios has also hosted his own TV shows (Metal Mania & Star Club), on ET1 & NET Greek television, produced and presented the programme "Music, Human & Landscape" on "Tele City" and collaborated with "Apogevmatini publications", an evening newspaper in Athens, as historian and art / music editor for the past 14 years.
2005 saw the release of Demetrios most recent musical work, the CD "Europe Hymn and Duty", featuring the lyrics of Kostas K. Katis, James Edwards on vocals and Joe Lamachia as narrator. "Europe Hymn and Duty" is an epic musical tribute to the historic course of United Europe.
EXORISTOI are back as group, after many years and their line-up is now multinational, including an English singer, Stuart Cook, a Greek bass player Harris Geroulakis, a Cypriot keyboard player, Vas Vasiliou and a Japanese drummer, Masa Mizunuma. And of course Dem Katis on guitars. The music of the band is heavier than ever so stay tuned for more great tunes of this truly historical Greek metal band!
Current LINE-UP
Vocals: Stu "Saxon Merc" Cook
Guitars: Dem "Bounty Hunter" Katis
Bass: Harris "Mr. Cholesterol Mafia Gunman" Geroulakis
Drums: Masa "Exiled Shogun" Mizunuma
Keyboards: Vas "King of Thieves of Astoria" Vasiliou
Sonic Age Records press release:
EXORISTOI Wrath of Zeus CD (CultMetal027)