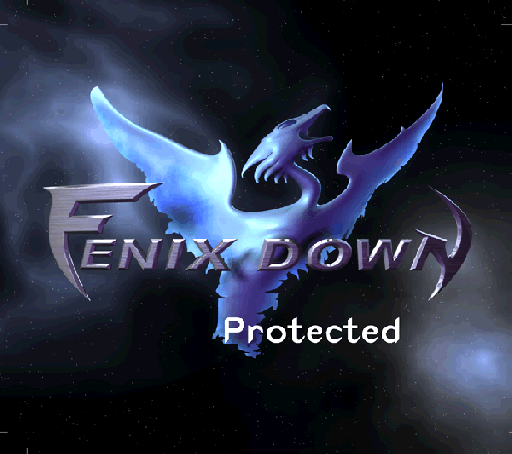 About Fenix Down
Fenix Down
Biography: Created in 1998 by Tony Hanson, Fenix Down has brought something unique to the underground music scene.  Together as a 6 piece they have successfully combined the influences of Final Fantasy, video game soundtrack, Hard Rock, and metal to form what they have coined as "Video Game Rock".  Since creation the band gathered an impressive collection of awards and achievements in areas such as songwriting, performance, and individual skill. 
 
The band is hard working and eager to do more.  As of (Jan 2007) they have begun working on their own video game ,planned for release, on Xbox and windows platform. Also they have created a fantasy based online comic, gaining fans in all fantasy based social circles. Today Fenix Down receives over 5,000 hits /month.  If you were ever looking for something different in today's music, you've found it! Fenix Down's popularity is growing by leaps and bounds, Check then out @ www.fenixdown.com as well many other places on the web.
stats:
By Anthony Hanson, 2007-04-12
Fenix Down is Hard Rock with elements of Metal, Symphonic Sound, and progressive with a pop male fronted/female backed vocal line. The songs contain either a high emotional or epic feel, building as they go on.
By Anthony Hanson, 2007-04-12
<p>Fenix Down </p><p>Press&nbsp;Release:<br /><br />&nbsp;POSTED BY: darkerfenix&nbsp; POSTED ON: 03/04/07 17:37:33&nbsp; <br />&nbsp;HOLLYWOOD, CA Hollywood&rsquo;s hottest indie A&amp;R firm, A&amp;R Select, has announced the bringing-on-board of Fenix Down, a hard rock band whose melodic stylings incorporate elements of prog with the inspiration they find in epic video games. <br />According to a spokesman for A&amp;R Select, &quot;Video games may seem an odd inspiration for a metal band, especially for non-gamers.&nbsp; But that media has come a long way and some top shelf games feature strong songwriting and compelling melodies, all delivered with surprising depth.&nbsp; And the lush graphics are terrific material to inspire metal, a genre that has roots in fantasy and broad themes.&nbsp; Fenix Down takes epic and conceptual musical themes and translates them into soaring, majestic metal anthems.&quot;<br />Tony Hanson of Fenix Down elaborates. &ldquo;Video games inspire me, such as the Halo soundtrack or the Final Fantasy battle music.&nbsp; The music drives and syncs up with the camera shots just right to really make an impact!&quot;&nbsp; Hanson continues, &quot;Every song is built around a heroic principle, whether it&rsquo;s not giving up or standing up for what you believe in.&rdquo;<br />Hanson also cites cinema as a major influence for Fenix Down.&nbsp; &ldquo;I like a lot of the big hit movie soundtracks, such as Gladiator, Interview with the Vampire, Rudy, Lord of the Rings, Star Wars&amp; in my opinion, the soundtracks are, in a sense, alive and in perfect sync with the films.&rdquo;<br />Fenix Down earned second place honors in Club L&rsquo;Amour&rsquo;s &ldquo;Battle of the Bands,&rdquo; rising above more than 130 bands in the tri-state area, as well as taking second place in MakeAStar.com&rsquo;s Sweet Sixteen contest.&nbsp; The band&rsquo;s song, &ldquo;Rain,&rdquo; has won track of the day on GarageBand.com; RateSomeMusic.com declared Fenix Down their artist of the week.&nbsp; Metal Maniacs featured the band in 2001 and 2002 and Fenix Down has appeared on two compilation CDs for Multiple Sclerosis and had also collaborated on a CD supporting Autism research. <br />Fenix Down has opened for Supermasiv (featuring members of Type O Negative, Life of Agony and Uranium 235), No More Tears (with Twisted Sister&rsquo;s drummer), Vanilla Ice, Symphony X and The Nerds.&nbsp; Benard Purdy, Richie Castellano (of Blue Oyster Cult) and Vernon Reid (Living Color) performed on Fenix Down&rsquo;s last album, which was produced by Dave DeBerry (Seven Dust, Mary J, Queen Latifah, Outkast, Alicia Keys) and tracked by Kevin Odom (LL Cool J).<br />The band which formed in 1998 is currently writing songs and is planning a 2008 release for its new album. Members are Tony, Fatthew, Tones, Jennifer, Robin and Perry.<br />More information is available by visiting <a href="http://www.fenixdown.com/">www.fenixdown.com</a>, <a href="http://www.myspace.com/fenixdownny">www.myspace.com/fenixdownny</a> and <a href="http://www.arselect.com/">www.arselect.com</a><br />&nbsp;<br /></p>