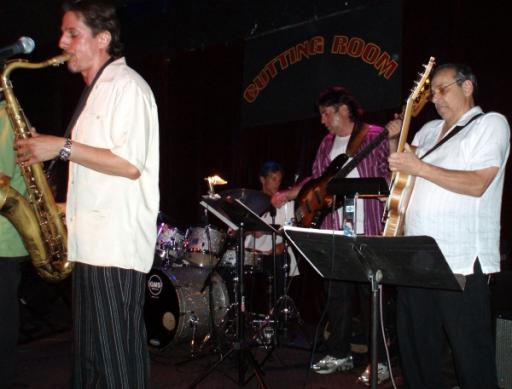 About Funkasaurus Rex
Introducing Funkasaurus Rex:  Created by Saxophonist Joey Berkley, this exciting jazz-funk band combines 'Rhythm 'n Blues' and 'Funk' with 'Jazz'.  Made up of all-star world-renowned musicians, Funkasaurus Rex features a dynamic horn section along with a versatile rhythm section. Whether it's a well-loved classic or a classy original, these veteran players bring the real funk into a new era.  From clubs to concert halls, they provide their audiences with the highest level of expertise and dedication to convey their music as an art form.
Funkasaurus Rex' players combined credits are a veritable 'Who's Who' of the music industry.  The players are:  Joey Berkley on Tenor Saxophone, Clarinet, and Flute; Gary Deinstadt on Piano;  Seth Glassman on Bass; Bill Harris on Saxophone, Clarinet and Flute; Tony Kadleck on Trumpet; Brian Pareschi on Trumpet; Chris Parker on Drums; John Tropea on Guitar;  and Jens Wendelboe on Trombone.  The Funkasaurus Rex musicians have played with:  Toshiko Akiyoshi Jazz Orchestra, Monty Alexander, Wayne Andre,  Ashford and Simpson,  Patti Austin, Average White Band, the Count Basie Orchestra, Louis Bellson Orchestra, Tony Bennett, Blood, Sweat & Tears, The Blues Brothers, Suzy Boguss, Michael Bolton, The Boston Pops, the Brecker Brothers, James Brown, Paul Butterfield, Diahann Carroll , Harry Chapin, Cher,  Eric Clapton , Joe Cocker, Natalie Cole, Judy Collins, Phil Collins,Alice Cooper,  Miles Davis, Jack DeJohnette, Deodato, Celine Dion, Tommy Dorsey Orchestra, Dr. John, Bob Dylan, Duke Ellington Orchestra, Donald Fagen, Jose Feliciano Ella Fitzgerald,David Foster, Frank Foster, Aretha Franklin,Dizzy Gillespie, Jeff Golub,Hall and Oates, Marvin Hamlisch,Slide Hampton, Isaac Hayes, Lena Horne, Whitney Houston,Freddie Hubbard,James Ingram, Michael Jackson, Al Jarreau, Elton John, The Quincy Jones Orchestra,Ben E. King, Carole King, Patti LaBelle, Cyndi Lauper, The Lincoln Center Jazz Orchestra, Jeff Lorber, Darlene Love, Ralph MacDonald, Christian Mc Bride, Paul McCartney, Brother Jack MacDuff, Barry Mann, Wynton Marsalis, Natalie Merchant, Bette Midler, Gerry Mulligan, Willie Nelson, Aaron Neville, the New York Pops, Roger Nichols, Laura Nyro, The Tom Pierson Big Band,  John Pizzarelli's "Swing Seven", Martha Reeves, Buddy Rich Band, Bruce Roberts, Kenny Rogers, Diana Ross, Boz Scaggs, the Maria Schneider Jazz Orchestra,Shirley Alston formerly of The Shirelles, Carly Simon, Paul Simon, Frank Sinatra, South Side Johnny, Bruce Springsteen,  Steely Dan, Barbra Streisand, Donna Summer, Grady  Tate,Clark Terry, The Three Degrees, Luther Vandross, Bill Watrous, Jimmy Webb, Cynthia Weil, the Westchester Jazz Orchestra , Grace Slick, Dionne Warwick, Bruce Willis, Stevie Wonder, Phil Woods and many, many more . . .
stats: