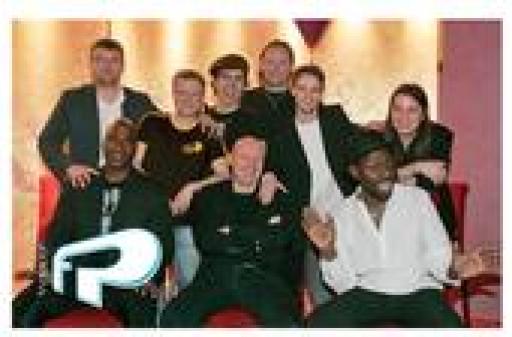 About Funky P
Funky P is the first Luxembourg band showcased at Popkomm in its 18 years of existence.
"Funky P understand the importance of good old-fashioned song writing"
Brainchild of Marc Reichling, the original incarnation of Funky P formed in 2004 while Marc was touring and recording with several German, French and Luxembourg bands. Inspired by many bands and producers that he met he began nurturing a desire to get into the studio himself. A chance meeting with American Roosevelt Isaac gave him the opportunity to start the pursuit of his dream. Isaac and Marc hit it off immediately and he set about forming musicians for the band. There was simply no looking back.. From their inception there has always been an emphasis on the live aspect of Funky P, with the Funky P band going through various incarnations, but since the completion of the first single from the album "Move the World" the band has really taken shape and their appearance at "Popkomm 2006" demonstrated this.
The Funky P band has become a dynamic nine piece, a mixture of those involved in the album alongside some serious new talent. You may know the single, you may think you know the band, but honestly, if you ain't seen them live you don't know ****. They completely out play any expectations you may have of them. Funky P is well on the path to becoming a rare feature, a popular contemporary "International Soul Band".
"Real music made by Funky P is the dawn of a new era of music."
FUNK MUSIC WITH A POP SENSIBILITY When you listen to Funky P you feel and hear something a little bit different. "They are very special. Funky P play music that fit their vibe."
Funky P is fast developing their own identity after searching for it in other people's music. "You can only imitate other bands so long before you look in the mirror and say, O.K. it's all right to play your own songs."
Funky P are a bunch of Jazz and Funk guys who decided to write pop music. Funky P is completely happy to go out and blaze a path for others to follow. If people follow them down it that's cool otherwise, it will be fun for them to go out and hang by themselves.
Funky P are "self managed artists" and have released an EP containing 3 songs in May 2006. The first track "Smile Baby" went straight to the top of the RTL Luxembourg (largest radio sender in Luxembourg) hit charts and stayed in the top 10 the entire summer and received place 8 summer hit 2006. "Smile Baby" was voted 2nd best "Song of the Year 2006" on RTL Luxembourg on Dec 30, 2006. It still places in the top 20 of DNR Radio (second largest radio sender Luxembourg) hearer charts today.
In Dec 2006, Funky P released the second single "Real Love" and this places 2nd on the RTL Luxembourg Hit parade the first week of February 2007.
All three songs have placed in the Top 10 of iTunes Luxembourg and mobile phone users can download the ringtones from VOX mobile in Luxembourg making them one of the most popular original bands in Luxembourg. The EP "Smile Baby" and the single "Real Love" are currently for sale on CD Baby and it is digitally distributed by 34 distributors on the internet (iTunes, Rhapsody and Emusic to name a few)
Major accomplishment for Funky P would be playing Planet Hollywood Paris(2005), the Grand Dome Paris(2006), being chosen to be the opening act for Maceo Parker(Luxembourg-2006), one of the opening acts for Uriah Heep (Belgium-2006 Rock Roots) and showcased at Popkomm 2006(European Soundclash).
Musical influences:
Soul, Funk, Blues, Jazz, Pop, Rap .. as long as it's good music it's gotta be in our mix .....
Bands & artists like : Lionel Richie, Chicago, Earth,Wind&Fire, Jamiroquai, Herbie Hancock, Tower of Power, DeLaSoul, ........
stats: