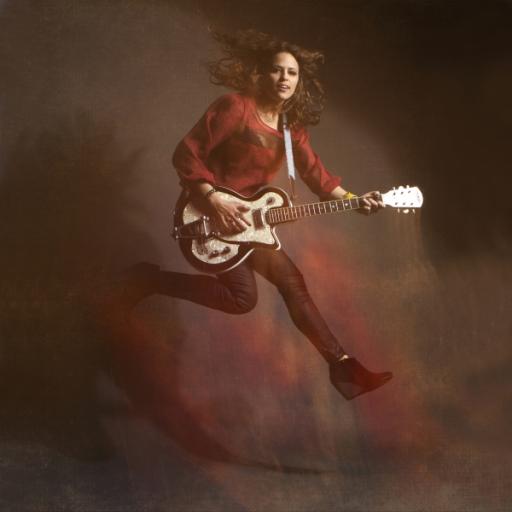 About lisabianco
With the pervasive presence of manufactured music acts and the increased influx of a seemingly infinite glut of well-meaning amateurs on the Internet these days, it becomes increasingly difficult to find an authentic, artistically mature, fresh voice in the world of music.  Yet, substantial, meaningful artists are out there—and multi-talented singer/songwriter/electric guitarist Lisa Bianco is living proof.  Her evocative and inventive songs are influenced by the alternative rock stylings of The Joy Formidable and The Yeah Yeah Yeah's, combined with the pop sensibilities of Blondie and The Bangles.  Her voice is emotive and unique, her songs are rich in pathos and a lust for life, and her electric guitar playing is imaginative, bold and tasteful—all amply demonstrated on her highly successful and universally praised latest EP release, Momentum.  
"Combining down and dirty electrics with addictive, . . . sweet melodies, Bianco once again squeezes the proverbial rock and roll mainstream juice into her cup of bratty punk snarl and the results are a big, bold
. . . compositional passion and vision."—John Pfeiffer, The Aquarian Weekly
Lisa has developed her unique and compelling sound and acquired her hard-won well established authenticity by paying serious dues; that is, by playing countless live shows over the past several years.  Subsequently, her fan base has become strong and growing, cultivated by her years of hitting the circuit at venues in NYC such as the Mercury Lounge, the Knitting Factory, City Winery, Webster Hall, Rockwood Music Hall, and The Stone Pony, Maxwell's and The Saint in New Jersey.  She has recently completed a U.S. East Coast/Canadian tour, performing several times at NYC's Anti-Folk Festival on a bill with contemporaries such as Nicole Atkins and Regina Spektor, as well as playing the CMJ Music Marathon and the Light of Day Concerts in Asbury Park (sharing the stage with Bruce Springsteen, Willie Nile and Jesse Malin).  Momentum is the culmination of that rigorous yet creative and fruitful journey, and once heard it becomes evident that Lisa is an artist who has matured exquisitely.  Her songs are contagious, well crafted, and poignant, and Lisa's voice is undeniable, yet words are often not enough to describe talent such as this.  The evidence lies simply in experiencing Lisa Bianco on Momentum and/or in one of her electrifying live performances (both—to get the whole picture) and letting nature take its course.
"This is truly an artist to keep an eye out for . . . as talented songwriters who also can boast of the charisma and talent of Bianco are rare"—Bob Smith, Good Times Magazine
Native New Yorker Lisa Bianco issued her highly anticipated EP release, Momentum, in November of 2011, and re-issued an enhanced mix version with improved packaging in June of 2012.  In the wake of its successful release she was selected to join the artist roster of Daisy Rock Guitars™ along with other notable artists such as Amanda Palmer from Dresden Dolls, The Veronicas, Avril Lavigne and Hayley Williams of Paramore.  Momentum showcases Lisa's songwriting, singing and electric guitar playing to her great advantage.  Every tune on the EP reflects her well developed artistry and her uncanny knack for great melodies, engaging lyrics and hook-laden guitar riffs.  And Lisa isn't afraid to pull out the stops in her live performances with a high-energy show that features a determined yet rich voice that's seductive and impossible to resist, and includes great songs and energetic, dynamic guitar playing.  Her shows are great fun that erases the distance between artist and audience.  Simply put, whether on recordings or in live shows, Lisa Bianco creates a moving and captivating experience each time she performs.
". . . [A] unique style which includes Lisa's impressive guitar chops and infectious, hard driving melodies."                                                                                                   —Tiffany Razzano, The Queens Chronicle
Contact:  Janet Castiel, Redwood Entertainment, Inc. (212) 543-9998, info@redwoodentertainment.com