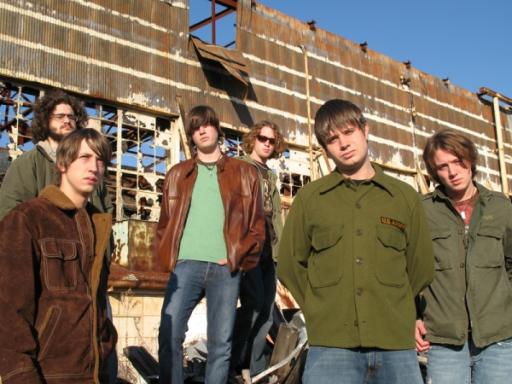 About Philpot
Whether downtown Manhattan or rural Dugger IN, Philpot sounds and looks legendary, like the Doors in '69, Aerosmith in '75 or Pearl Jam in '91.  It is something.
The band has been compared to Blur, Pearl Jam, REM, The Stone Roses, Alice In Chains, Freddie Mercury, The Yardbirds, The Beatles, The Smiths, Radiohead, Led Zeppelin and The Doors. They've been labeled "New Classic Rock" and "New Americana", the next band from the American heartland, and the "American Oasis". But as critics and listeners struggle to make comparisons, what they are hearing is this: Philpot.
Their name comes from an orange shirt the singer's grandmother picked up at a Democratic convention in Hammond, Indiana; the word "philpot" was emblazoned on the shirt in big, bold, blue letters. Frontman Kentz Ward, sounding like a cross between Liam Gallagher and Kurt Cobain, invests his soul and makes every note of these songs count. Caleb Smith's lead guitar works in tandem with Josh Kennedy's rhythm patterns to give the songs shape and a space in which to breathe. AJ Boone's keyboards instill a sense of ambiance, and Arthur Ready and Tyler Evans provide the propulsive beat.
In a flower shop disguised as a musical laboratory, situated in the blink-and-you'll-miss-it Indianapolis suburb of Dugger (pop. 955, a town without a stoplight), Ward toils by day among the blossoms and, by night, is joined by his five compatriots who grow their, by turns, rocking, bluesy, and emotive music. They nourish their music with loving care inside the confines of the flower shop.
Equal parts eagerness, confidence, naïveté and balls compelled the band to drive uninvited to NYC one night and at 3 am, convince the owners of rock club Snitch to let them play.  Out of curiosity, the owners gave them the venue, which already had its share of celebrity clientele as audience.  Philpot's impromptu set infiltrated the jaded NY music scene just that quickly, and was covered in the major city media including multiple visits to WOR's Joey Reynolds show. 
Philpot first gained attention opening for Travis Meeks and Days of the New after meeting that band at a church benefit. Robert Evanoff, SVP of Artist Relations and Development for Toucan Cove fought hard for the band against labels including Virgin and Atlantic.
"I was immediately interested in them upon hearing their story.  From a small Midwestern town and 100 songs penned before anyone turned 20?  After seeing them play a four-hour show, without a set list (and playing the first hour in the dark) at the Oodle Inn (outside of Dugger), I was truly blown away!  This band is one that only comes along every once in a great while - one that has the potential to follow in hallowed rock and roll footsteps."
Capturing that energy for the debut record on Toucan Cove will be Bill Klatt, who is bringing a diverse resume (The Rolling Stones, Cher, Sneaker Pimps, Days of the New, Rick Rubin, Scott Litt) to inform and challenge the band.  Show Place Studios (Nirvana, Keith Richards, Eric Clapton) will provide the historical recording vibe, as will mixing house Electric Lady (who's who from John Lennon, the Beastie Boys, Weezer, Madonna and of course, Jimi Hendrix) as mastering facility Sterling Sound (the best from David Bowie, Aerosmith, Kanye West to Mariah and Metallica).
stats: