About Robert Farmer
SOLO ARTIST OF THE YEAR-2007 & BEST SONG OF THE YEAR declares IOM MAGAZINE!
'IN A DREAM' & 'ANGEL ON THE ROOFTOP' CHOSEN AS PART OF THE SOUNDTRACK FOR A SOON TO BE RELEASED MOVIE BY SIBERIAN PRODUCTIONS CALLED 'REVELATION'!!
Robert is a singer, songwriter and producer of all his own recordings that include "In A Dream", "The Search", and soon to be released in 2007 "SEEING RED", and has worked with many top acts.
An accomplished drummer & percussionist, Robert also plays the keyboard, sings, a writes all of his own music. Lived and played in the Philadelphia, New York & Boston area most of his career but hit the road for many years touring much of the US. Today he works in his own recording studio daily.
Sought out the best teachers available, such as, Jim Chapin (Harry & Tom Chapins' father). Jim Chapin is a renowned drummer, author, and music educator in New York still turning up in various magazine publications. Continued studies with Robert Boysie Lowry, a local icon and Mentor/Teacher for many jazz musicians, including legendary jazz trumpeter Clifford Brown, saxaphonist, Ernie Watts, as well as pianist Mathew Shipp. It was around this time Robert met Dexter Koonce (Boysie Lowerys nephew) of Grover Washington, Jr. Roy Ayers, Rufus Thomas, Denise Thomas & James Brown.
Although this is Robert's debut solo album its far from being his only project, with 2 more discs almost ready for release. He has logged session work with Lindsay Lee (Capitol Records/Warner Bros. Records) and received regional and national radio airplay with the original recording band called The Watson Brothers Band, as well as doing session work for Radio and TV. Opened for Patti Smith at Penn's Landing, Philadelphia for thousands of people. This show was broadcast live on rock station WIOQ and hosted by the infamous Ed Sciackey. Because of the bands success he met many other high profile radio personalities such as Michael Tearson of WMMR, Mark Goodman host of MTV, Harvey of WIOQ and later moved to WMGK, and also, guitarist Nils Lofgren with Bruce Springsteen's Band to name a few. He opened for James Cotton at Widener University. The band was tight, inspired and kicking. James Cotton was pretty good too. Opened at the 'Main Point' for Robert Hunter, songwriter for the Grateful Dead.
Voted one of the TOP 2 ORIGINAL BANDS/ TOP 2 IN SINGER-SONGWRITER CATEGORY & ONE OF TOP 3 DRUMMERS collectively in the Philadelphia/Delaware Valley reader's poll in Fine Times Magazine for three consecutive years.
WORKED WITH THE FOLLOWING MUSICIANS: Larry Gold-producer/arranger of local and national talents with gold records, including Jay Z, Janet Jackson, Justin Timberlake (N Sync), Teddy Pendergrass, etc. George Thorogood, Billy Blaugh and Hank Carter of The Delaware Destroyers. John Lilly-The Hooters.
INFLUENCES: Peter Gabriel, Mark Knopfler, Eric Clapton, Jeff Beck, Led Zepplin, Little Feat, Pink Floyd, The Doors, Santana, Sting.
QUOTES: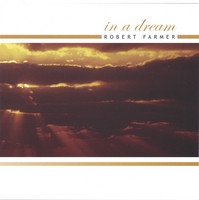 ROBERT FARMER: 'IN A DREAM'


In a Dream by Robert Farmer is an absolute must for any sensible person's CD collection. STUNNING!! Quite possibly one of the best albums your likely to hear outside of a major label's A&R department!,
Colin Lynch - October 29, 2006 IOM MAGAZINE
www.rcatcommunications.com
© 2006 R Cat Communications Ltd All Rights Reserved
stats: