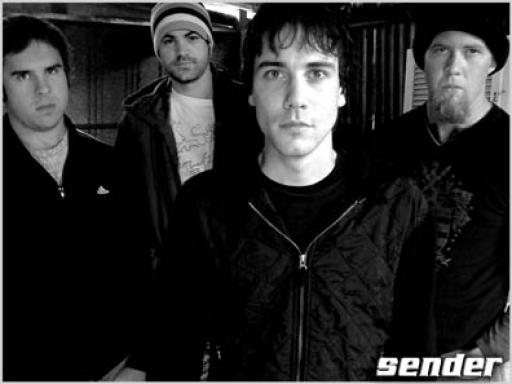 About Sender
Sender is a 4 piece rock band from Bendigo in Central Victoria. The band has been described as being somewhere between Muse, silverchair and Foo Fighters and has developed into a tremendously tight and intense live act with a flair for writing accessible rock songs.

It all started in Bendigo in 1995 when 4 high school friends started jamming to the likes of Nirvana & silverchair. After performing at various school functions and local concerts, Bohdan Dower, tried his hand at creating his own material and found he had the flair for writing songs - the first being penned at only 14 years of age. Over the next couple of years the band slowly built a repertoire of new, original material and Zenyth www.myspace.com/zenythband began developing a loyal following of fans. Regular gigs throughout Victoria saw them perform with the likes of Killing Heidi, 28 Days, Magic Dirt and Something For Kate.

In the years leading up to 2003, the band took out several battle of the bands competitions including the State Final in the 1999 Rock Eisteddfod, leading to a performance at Melbournes National Tennis Centre, an event televised nationally on Channel 10.

2000 saw more competition appearances including the massive Push On 2000 final at Melbournes Luna Park, plus performances at the launch of National Youth Week at The Chapel in Prahran and at The Royal Exhibition Building, Melbourne.

In 2001 the band released their debut EP Threedoublefivesix which was produced, recorded, engineered and funded by the band, which lead to them breaking more ground with live performances across the state. Threedoublefivesix went to a second pressing and has since sold out and has now becomes a collectors item as Zenyths one and only CD release.

Whilst still playing live under the now retired moniker of Zenyth, the band took out the title to the 2002 National MusicOz Competition, winning recording time at Sony Music Studios in Sydney, recording 2 songs under the esteemed guidance of Paul McKercher - one of this countrys most respected engineers.

With a tremendous catalogue of songs and a name change to Sender, the band signed to Sony Music Australia in Jan 2003, and headed into Melbournes Birdland Studios to record a 5 track EP with producer Lindsay Gravina (The Living End / Magic Dirt). The tracks were then mixed by Rick Will (Incubus, Ben Harper, Sandrine, Lo-Tel) and Roger Sommers (Allanis Morisette, Rage Against The Machine, K. D. Lang) resulting in an outstanding debut 5 track self titled EP Sender released in May 2004. www.sendermusic.com

The next 4 months saw national across the board TV and radio airplay for lead track Youre on Fire on Video Hits, So Fresh, MMM, NOVA, MTV and Channel [V] and full regional radio coverage. The band hit the road scoring national supports of Hoobastank, Switchfoot, Tenacious D, Killing Heidi and The Screaming Jets completing nearly 70 gigs and sales of the EP exceeding 5,500.

The beginning of 2005 Sender start to write and demo 15 new songs for Sony and after much discussion with the label, the band ask to be released from their contract which Sony kindly agreed to.

Sender are now set to record their debut album themselves and look forward to another 10 years of rock.

Senders yet to be named debut album is pencilled for release mid 07.
Followers:
stats: