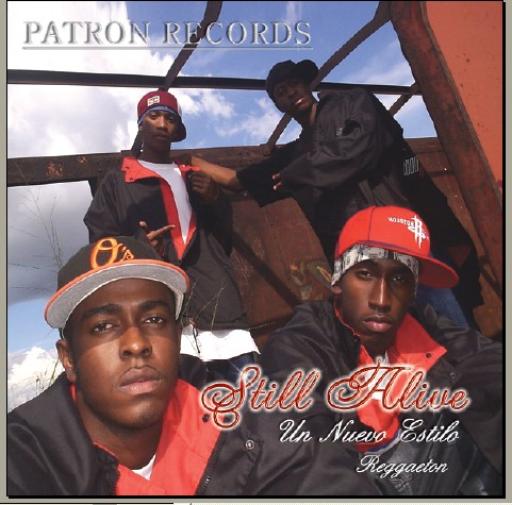 About STILL ALIVE
For Immediate Release
STILL ALIVE
(A un Viven)
A group with a "Nuevo Estilo"
With a style of their own and a rumba form of tropical dance and Hip-Hop, this group is currently being played across Latin America and currently about to hit big in the United States. This talented Columbian group is made up of four male members- Sunday, Bigday, RJ and the youngest Makliky.
Descending from a family filled with musical talent, not only do they write but they also produce and arrange their own music. Their music is unlike your average reggaeton sound. Not only does their mixture include Hip-Hop, but also the different sounds of Latin music, which include: el Mapale, el Chande, el Porro, Paso Doble , just to name a few. Their influences include Eminem, Juanes, Ruben Blades, Tego, Don Omar and Daddy Yankee,50 cent
The guys want to make sure that their music can be heard by all and everyone, no matter what age so they make sure their lyrics are positive and uplifting. Each song brings life, happiness and a message to the heart.
After 10 years of hard work, tears and perseverance, Still Alive met up with Abel Romero who owns Patron Records. Believing in them, he took on the project under his label and is taking Still Alive to the next level. They currently have two singles under their self-titled album released through Patron Records- Ladyand De Feria, which are charting record pools nationwide. They also have been touring and you can also catch their Video on LA TV, MUN2 and soon to day view on MTV3.
This group is sure to catch your attention especially if you get a chance to catch them Live. Their mixture and infusion of different sounds of Latin music and Hip-Hop combined with their synergy and passion of life is guaranteed to bring you to your feet- NO DOUBT!
"We want the whole world entirely to know our music by sound, lyrics and most of all enjoyment!" - STILL ALIVE
www.myspace.com/reggeaton602
www.patronrecords.com
For story Opportunities or more information please call Trevino Enterprises @ (818) 660-2888 or via email reyna@trevinoenterprises.net
###
stats: