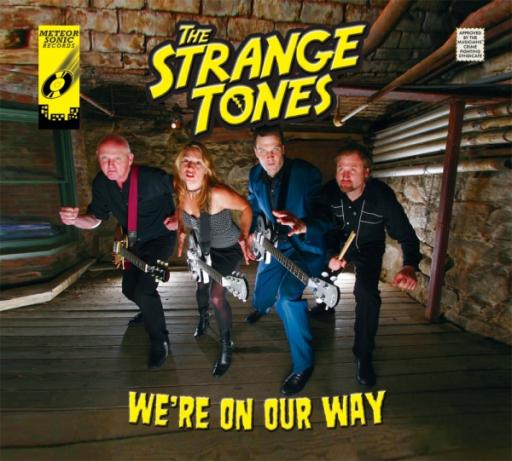 About THE STRANGE TONES
"If surf guitar god Dick Dale found himself in Bogie's Maltese Falcon film-noir underworld, and drank beer at the seedy bar with bluesmen Jimmy Reed and Magic Sam, the resulting soundtrack might be exactly what the Strange Tones purvey." - Oregonian
Just in the nick of time, one of the Northwest's most notorious live bands has answered the call with their new release "We're On Our Way". The Strange Tones have emerged from their undisclosed secure location with their most entertaining collection of songs yet. 11 originals and a bonus tribute track to the late, great Paul deLay fill out this CD, which also features the legendary Curtis Salgado (harp & vocals), Jim Wallace (harp), and Mike Walker (Hammond Organ).
Rather than plundering the shrines of American music and merely imitating their heroes, these sonic crime fighters have concocted their own secret formula, a one of a one-of-a-kind style they call "Crime-A-Billy". The band draws upon the rich traditions of blues, rockabilly, surf, and R & B, and combines these ingredients with fresh, well-crafted song writing and dynamic performances. "This band has a clear handle on who they are, setting them well apart from pedestrian shuffle bands and three-chord posers." -Oregonian
The magic of this ensemble is fueled by four players who are equally compelled and driven to advance their cause. This fearsome foursome, led by the husband-and-wife team of Guitar Julie and bassist Andy Strange, and fortified by longtime partners guitarist Suburban Slim and drummer J.D. Huge, form "....one of Portland's most original and accomplished bands." - Oregonian. It may be Andy's lessons learned as bassman for legendary wildman and voodoo practitioner Screamin' Jay Hawkins, or Guitar Julie's steady childhood diet of Jimmy Reed and Ike and Tina Turner. It could be J.D.'s deep groove from his years as a studio musician and live performer, or Slim's intensity and creativity that consistently earn him awards. As anyone who sees The Strange Tones perform live knows, it's much more than these four individuals....this is a BAND.
The Strange Tones' fiery, unique sound and outstanding musicianship has earned the band multiple awards as "Best Contemporary Band" and "Best Electric Guitar" by the Cascade Blues Association. Their previous CD "Crime-A-Billy" received much acclaim, including reaching the Top 20 Chart in Spain for FM Blues Radio, and their song "Pinto Squire" was featured on National Public Radio's Car Talk. The Strange Tones step up to the plate with their new release. Their continued development as a dynamic band with relentless energy and exciting live shows are well captured on "We're On our Way".
Influences
Slim Harpo, Link Wray, Magic Sam,
stats: