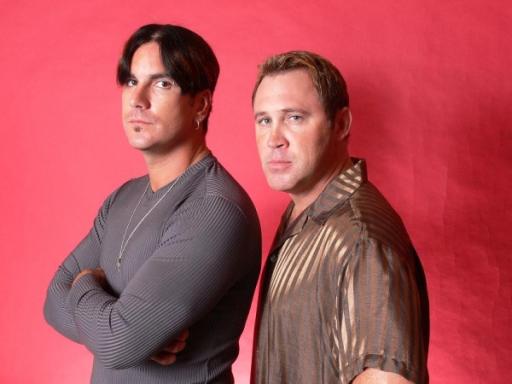 About VYRUS
Formed in Washington, D.C., the musical entity known as VYRUS was officially born at the Spiral Club in Greenwich Village, NYC on the first day of Spring in 1999. A standard 4-man rock line up at the time, the band headed west to Los Angeles just a few months later. That's where VYRUS founders, singer/songwriter/guitarist Bryan Foley and Drummer Donny Hinegardner may well have made history with their debut at the famous Whiskey A-GO-GO and Roxy both the same night. Little did the unit know the musical ride they were about to experience.
After performing at every major club in the L.A. music scene over the next 4 years, Foley headed up Braintrust Records while Hinegardner perfected various futuristic sonic techniques on drums. All the while, they continued writing and recording new material for their debut release.
A heavy rock/experimental sonic hybrid, VYRUS fuses classic songwriting with futuristic soundscapes and inescapable hooks! They have garnered national attention on the 2003 Lollapalooza Tour summer sampler, a slot on the "Vengeance" film soundtrack, and radio airplay on both coasts. VYRUS has also held the top 2 chart positions in the New Music Reporter, an independent music publication.
The VYRUS self-titled debut LP was released Halloween night 2006 by Braintrust Records. The band signed a deal in the Phillipines with Mondo Distribution and will tour overseas in 2007, most notably opening for multi-platinum English rockers OASIS. Porno for Pyros guitarist Peter Distefano has been added as executive producer and the new album is now available on Apple iTunes. The group will embark on an amitious international tour to promote the record and showcase the visceral live experience for which their concerts have been noted.